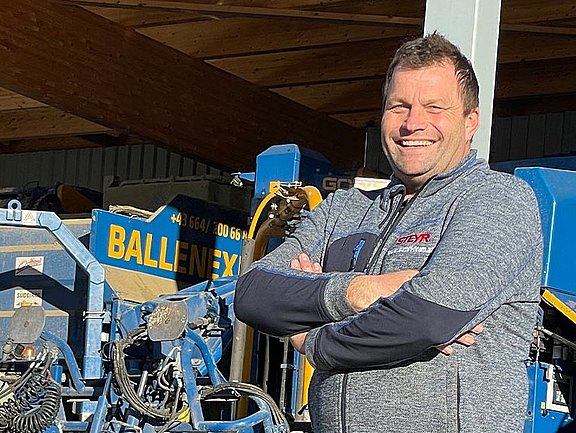 Continuous operation during the maize harvest
A visit to the Gumpi team at Stadtlerhof in Lienz/East Tyrol
"Some call us crazy; I prefer to say special," laughs Hans Gumpitsch, a private contractor from Dölsach near Lienz. For almost 20 years now, the company founder and his team have been providing services in connection with agricultural engineering, sowing, maintenance, harvesting, and waste engineering, as well as municipal and transport services.
Seven years ago, the CEO expanded the range of services to include the baling of corn bales. He recognized the enormous market potential, predominantly for his farmers with small-scale agricultural farms. The best solution for these farmers is storage in bales. Many have grass silage bales and the same technology can be used to transport the corn bales, open them in the barn, and introduce them for feeding. The VARIO-Master is perfectly suited to the requirements of farmers: the baler-wrapper combination from GÖWEIL allows bales to be wrapped in different sizes. "We have smaller farms such as those for sheep raising which do not need any corn bales. And then there are farms that need a ration of 1,400 kilos per day; they use up one large bale every day," explains Hans Gumpitsch. The Gumpi-Team now serves customers within a radius of more than 200 kilometers around the East Tyrol district capital with six GÖWEIL machines.
The corn harvest is the busiest period of the entire year at Gumpi, taking a maximum of eight weeks. The later spring cultivation and the weather conditions in the summer presented Gumpi with a particular challenge in 2021, when the team had to harvest all the corn for their customers within 10 days. This meant that they had to produce more bales in this short time frame than they had produced during the entire season three years ago. The team was working around the clock - which not only requires serious dedication, but also powerful machines.
Special Requirements Need a Special Partner
Since expanding the range of services he offers, the private contractor has been working with VARIO-Master baler-wrapper combinations from GÖWEIL. "We were able to work with the VARIO-Master prototype seven years ago and then help develop this further with GÖWEIL," says Gumpi, recalling the first time the machine was used. For Gumpi it is important to have a partner open to new ideas and findings. Good ideas and suggestions for improvement are taken on board at GÖWEIL and incorporated into the machine.
Gumpi has opted for GÖWEIL for various reasons. The company has found no comparable device that is ready for use as quickly, and it also offers unbeatable dependability. Of course the service life is an important factor that has to be taken into account in the pricing calculation and, according to Gumpitsch, this goes far beyond the manufacturer's promise. What's more, GÖWEIL's problem-solving prowess is unique among all the partners that Gumpi works with, and GÖWEIL can be reached 24 hours a day, seven days a week. Three times the Gumpi-Team has faced the issue of needing a replacement part quickly that was not in stock – and three times a service technician from GÖWEIL traveled to the Gumpi-Team and had the machines back up and running again within four hours.
The Gumpi-Team: Professionals in the Fields of Transport and Agriculture
The 50-year-old started out directly marketing milk from his Stadtlerhof farm 35 years ago and was one of the first people in Austria to pasteurize milk. In 1993 he began working as a private contractor and therefore had less and less time for farm-gate sales. For Hans Gumpitsch, the appeal of his work lies in the fact that it involves transporting things that are out of the ordinary, managing tasks and challenges that are out of the ordinary, and all of this together with a team that is also out of the ordinary. "That's why we always say that we are special! We are a fantastic team and we enjoy what we do. We don't clock-watch to check whether we are almost finished - we all share the common goal of getting our work done. We provide a service and we put our heart and soul into this," says Gumpitsch proudly.
For Hans Gumpitsch, his employees are his greatest asset. They are the most important factor in the planning for the entire year: "They know that we have to give it our all during the corn harvest. We in the family also put this into practice, which means not getting more than two or three hours of sleep during this period. What's more, someone is always reachable here. This is what we stand for and this is an advantage of having a team - the Gumpi-Team!"
Collaboration with other partners is equally important to Gumpi. The Gumpi-Team focuses on the bales, while other professional service providers handle transport and chopping. They are familiar with the local conditions and requirements of the customers, which therefore allows for better management of a stressful period.
Hans Gumpitsch's farm consists of roughly 40 dairy cows and he also breeds alpine heifers and oxen. The Gumpi-Team is made up of 21 people, 15 tractors, two wheel loaders, and a telescopic wheel loader. Two recent additions to the fleet are the golden tractors from Gumpi's two sons to mark his 50th birthday.