Net replacement film
The future of round bales?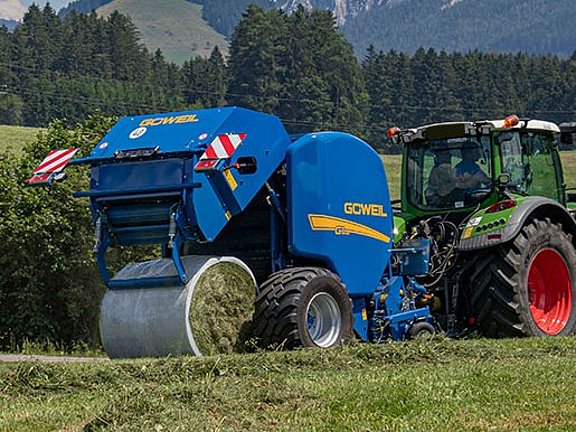 Film binding: the future of round bales?
Advantages of the Net replacement film
GÖWEIL has been developing film bindings since 2005, which makes the company a pioneer in this segment. The G-1 F125, the G-1 F125 Kombi and the LT-Master feature the system as standard equipment. Film bindings are proven to increase the quality of the fodder. A bale that is bound with wide film is much more compact and dense than a bale bound in net material (about 5-7 cm smaller in diameter and about 126 liters less air per bale). The additional film layers also provide better protection against damage during transport. Another advantage is the stable shape of the bales, which facilitates both transport and storage.
Especially contract harvesters were then faced with the problem of how to switch constantly between wide film and net material. GÖWEIL soon found a solution – the world's first and only double binding!
This system allows the simultaneous insertion of both net material and film, and the driver can easily switch between the two via the terminal in the cab.
If 2 rolls of net or film are inserted, both are used simultaneously, which reduces the binding time by half.
Would you like to learn more about this system?
Your personal contact person will be glad to assist you!